Selecting a professional Retail Interior Designer is a crucial decision that can influence the success of your business. An engaging and customer-focused environment that strengthens brand identity and boosts sales may be created in your retail space with the help of an experienced designer. When choosing a store interior designer, keep the following things in mind to make the best decision.
· Expertise and Portfolio
Examine the designer's portfolio to get a sense of their originality, variety of projects, and style. Seek out previous endeavours that complement your brand and vision. A designer with knowledge of retail environments will be attuned to the subtleties of product presentation, customer flow, and crafting a memorable shopping encounter.
· Project Management Skills
There are several steps involved in retail space design, from conception to completion. Find out how the designer manages their projects. Professional shows that they are prepared for the job when they can lay out a precise schedule, include milestones, and explain how to handle unforeseen obstacles.
· Compatibility with Your Vision
Good communication is essential. Communicate your vision, objectives, and preferences to the retail interior designer during the first meeting. There's a greater chance that a professional who pays close attention to what you say and shares insights that align with your goals will meet your expectations.
· Adaptability and Versatility
Retail locations can range greatly from department shops to boutiques. Select a designer who can modify their style to meet your unique requirements and has expertise working with a variety of store space types.
· Budget Management
Offer prospective designers a clear understanding of your budgetary requirements. An accomplished designer has to be able to stay within your spending limit while still delivering a high-quality design. Moreover, you need to ensure transparency and ask for a breakdown of costs to avoid unexpected expenses.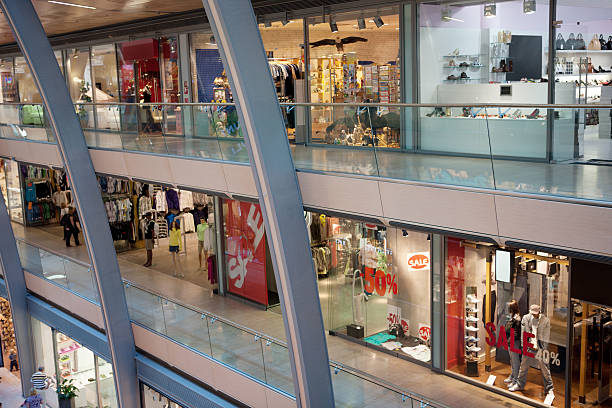 · Creativity and Innovation
A good retail interior designer should be able to think of new and creative ideas. Seek out designers who can provide imaginative solutions for your area, whether it is through original layout ideas, new material applications, or eye-catching display techniques.
· Collaboration and Communication
Effective communication and teamwork between you and the designer are essential to the success of projects. Examine the designer's communication style- are they receptive to criticism, eager to include you in the process of making decisions, and responsive?
· Agreements and Sample Contracts
A well-written contract includes the terms of payment, the timetable, the extent of work, and other pertinent information. To make sure that everyone is aware of the expectations, carefully go over any contract or agreement that the designer provides.
· Understanding of Brand Identity
The identity and values of your brand should be reflected in your retail location. Select a Retail Interior Design Company that can translate your brand into concrete design components and has a deep understanding of it. This goes beyond simple aesthetics; it's about designing a space that appeals to your intended audience.
· Reviews and References
Consult internet reviews or ask previous customers for references. Learning from other people's experiences can give you important information about a designer's professionalism, work ethic, and general level of quality.
· Knowledge of Codes and Regulations
Retail areas frequently have rules and laws that need to be followed. Professional retail interior designers should be aware of these specifications and make sure the design satisfies them all.
· On-Site Presence and Site Visits
A designer can address design difficulties and make revisions in real time if they visit the project site and are present during important phases. This presence guarantees that the intended execution of the design is taking place.
Conclusion
Choosing a professional retail interior designer is one of the important steps to achieving success in the retail business. The selection of the right designer can ensure to create a customer-centric and captivating retail environment.
Ai Republic is one of the most Retail Interior Design Companies in Melbourne that aims to elevate your business to the next level and enhance your retail space. They provide you guidance throughout the process of designing and planning your retail store interior.